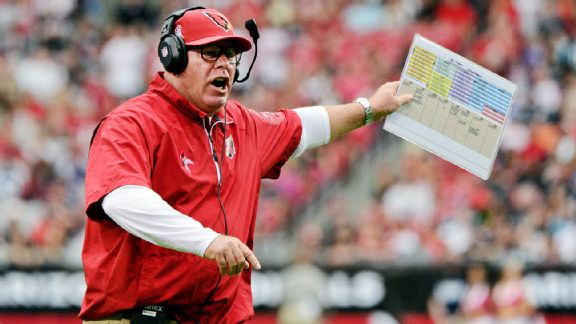 20 Oct

Bruce Arians: Coach It Like You Stole It

I try to read everything I can on any type of coach, regardless of their sport or level of success.  I have a great interest in the different styles and philosophies that a coach is about.  Over the past few years I have really focused in on NFL coaches.  Everything about their management styles, both on and off the field, intrigues me.   Often times, it's rarely about what they do competitively, but stories of the sacrifices they made and their different styles of leadership.
In my profession, the sacrifices on your family become more and more real as I watch my children grow up.  I've realized that what I thought the business was when I started my career, in contrast to what it really is at this stage of my career, are two completely different things.  As I have matured, I get closer and closer to the roots of why I wanted to coach.  A guy like Coach Arians specifically, is the type of guy I cheer for and admire.  The drive, the fight, and passion for his craft are attributes that stand out when I read this.  It's refreshing to see how a journey defines who a person is.  Even on the biggest stage, your coaching methods remain the same…no matter what the level of magnitude the game is.  
Like Coach Arians, you have to be the same person under the lights when you're the coach at Temple as you are when you're a coach in the NFL.  
Whether you're the underdog trying to beat Penn State or leading your team to the top of the NFC West…your fight remains the same.  The golden opportunity came in the most peculiar way for him, as it somewhat did for me, yet he was so respectful of the chair he was sitting in.  Even though it took him a longer time than his counterparts to get to that point, it was all a perfect fit.  As the old saying goes, "It takes a long time to become an overnight success." 
TEMPE, Arizona — Behold this most uncommon man, a 62-year-old modern-day hepcat, wearing a bright-red Kangol hat and red suede slip-ons. An alpha male among alpha males, he walks the hallways of the Arizona Cardinals' headquarters with an old-athlete strut that's equal parts dare and invitation. He's got wide shoulders and a broad face and a handshake that feels like a slab of ribs.

He never thought he'd be here in the first place, so he's going to wear what he wants and say what he wants and coach the way he wants. It's house money, baby, and Bruce Arians is letting it ride.

The concept is as foreign as a butterfly on an ice floe: an NFL head coach who exudes — rather than stifles — personality. An NFL head coach who doesn't sound programmed to emit the least illuminating banalities. An NFL head coach who says, "I love the bull's-eye. I'm going to do this my way. You can fire me if you want, but I'm going to do it my way."

His voice is all Central Pennsylvania — York, to be specific, where th miraculously becomes d — with a healthy inflection of just about everywhere else. He's been in this racket for more than 40 years now, with 14 moves on his family's punch card. From Tuscaloosa, Alabama, under Bear Bryant to Pittsburgh under Bill Cowher, he's covered a lot of ground. On this Tuesday — 91 degrees at Tempe HQ — five days before his 3-0 team will play Denver and lose its first of the year, there's a Tommy Bahama-meets-Jersey Shore vibe coming off Arians. He's so unhurried and laid-back you have to remind yourself it's not a Tuesday in June.

"He thinks he's cool," says linebacker Larry Foote. "You see the way he dresses? He got that swag. He hip to the game. He's as cocky as all these athletes in here." Could it be, despite everything we're told about the grind and the drudgery and the Donner Party-like slog of an NFL season, that it's possible for an NFL head coach — sign-of-the-cross and please don't tell Bill Belichick — to enjoy himself? "Oh, hell yeah," Arians says, acting like it's the craziest question ever. "I'm having a blast every day. You know why? Because I'm not coaching for my next job."

The laugh that follows is a purge, emptying nearly 40 years of game plans and play calls and disbelief that this last great chance almost didn't happen at all. It's the perfect soundtrack to the Arians philosophy:

Coach it like you stole it.