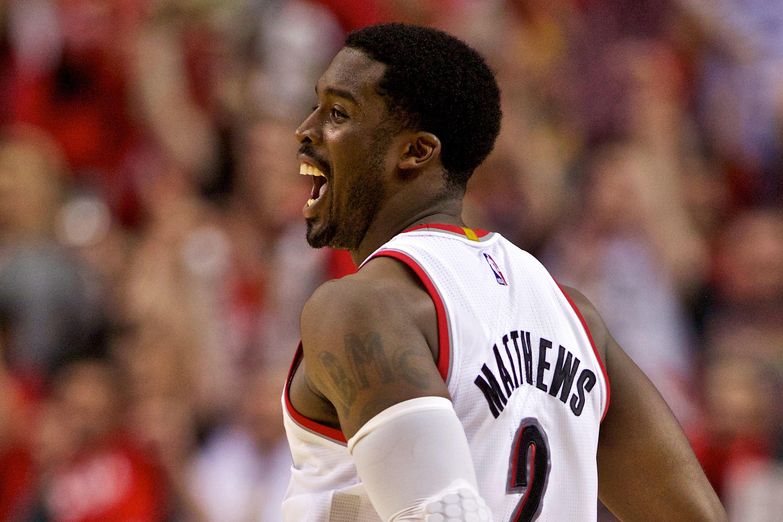 03 Dec

True Confidence Can Only Come From Your Work
Yesterday in practice Buzz pulled the guys aside to talk to them on the importance of following the process. Getting better every single day and never giving into the grind of it all. Buzz is always emphasizing to them about finishing everything to completion, never pulling up on a drill, and as he puts it how "A fingertip can change everything." We worked hard yesterday, getting ready for our next game, which is tomorrow. The guys were dripping in sweat as Buzz's voice filled with passion and emotion, as it will often do during these "life lesson" type discussions he does. These talks can literally happen anywhere at any time. He just needs to get it out, the words have been running through his mind all day long. He talked about Jimmy (Butler) and Wes (Matthews) as if it was just yesterday that they were in the gym with him. No one on his current roster has ever met either one of them or seen the play in person, but all have watched them at some point on TV. They know who they are and they know after being around Buzz what they have gone through to make it to the next level. When you see a pro, you sometimes think that they just "got there" because of how good they were on sheer talent alone. Often times you don't really know the whole story. I was able to jot some notes down yesterday as Coach was talking to the guys, I don't even think he was aware that I was doing it. Here is my transcript of what he told the guys below:
(Note – this isn't verbatim, but an abbreviated version of the talk. I kept his writing in the same style of his tone of voice, to give the readers the ability to hear the message the way the players and staff heard it)
"So there was an article about Jimmy on ESPN on Monday from last week and an article about Wes just came out that I will send you guys later tonight. Both have the same type of tone to it, the same flow.
Ahhh you know those guys, they were guys who weren't 'supposed' to make it. No hype, no name dudes coming up. Guys that played in the back gyms at them AAU tournaments. Not in the main building. Court 19 type guys, way back there in the old gym. Just HOOPING.
Jimmy was ranked the #82 player in the state of Texas as a HS Senior. #81, the kid ranked before him went to a Division 2 school — just so that puts that in perspective for you guys.
Wesley was not ranked in the top 200 nationally as a high school senior. Wesley never received a vote for All- Conference until his senior year in college — not one single vote.
Wesley was undrafted out of college. On draft night, he didn't think his chances were very good. You know what that dude did while the draft was on. He went and worked out. He was in a gym. No lie, putting up shots, working on his handle…. just in case. He was going to make sure he was ready. He got his shot, and made the team.
Wes goes on a signs a 2 year non – guaranteed deal with the Jazz, that was voidable on Dec 10th of that year. On Dec 2nd, Kyle Korver got hurt and was going to be out of the lineup. Wes stepped in and they kept him. The guy was ready, and he answered the bell. At the conclusion of the 1st year in Utah, he signed a $35 million dollar deal with the Blazers, and everyone said it was the dumbest thing ever.
I know you guys saw that Jimmy turned down a $42 million dollar deal in October. Wes turned down a big deal too. Guys, that's a lot of scratch – life-changing money— like change your family's life for years to come money. But there's a reason behind it. They both are going to get paid what they deserve after it's all said and done.
The thing about those guys though, both of them graduated on time. Neither ever dropped a class. Neither ever had an off the court issue in anyway. Neither had a problem with their calendar (note – Buzz gives every player a calendar at the beginning of each week with everything detailed down to the hour of where and what they are supposed to be doing with academics and basketball responsibilities) – not one time did they miss an appointment. Almost everyday they spent time in the film room or on the floor working on their craft. They were kids just like you. Nobody ever anointed them to be anything. They didn't know there was anything else going on in the world – they knew this was the only chance they had. They didn't have a plan B, this was it. They weren't going to lose the chance or spoil the opportunity that was given to them. "Hey man, ya'll are gonna let me go to school for free, 3 square meals a day, cable TV in my dorm, pay for my books and all that? Nope, no way am I letting this deal slip away. I ain't going back, I'm gonna stay here and work on this thing, right here."
Them guys, they ran to the right spots on every drill. They 'tagged' at the logo on every pick & roll like we taught them to. They were both 'Go Get' guys every time, crashing the glass and doing whatever it took to be in the play — grab a board, diving for loose balls. Both averaged well over a point per possession (note – a stat Buzz likes to keep) because they got the foul line so much. They worked man, they worked. They were dogs man, hungry dogs. They had to make it. No choice.
Guys, I'm telling you…it's not a trick. There is not a magic pill you can take, no shortcuts.
'True confidence can only come from your work.'
Bring it in…"
Wesley Matthews Keeps Getting Better and Proving Doubters Wrong

By Willy Raedy

Come back with me to July 21st, 2010.

The Trail Blazers were coming off a disappointing first round loss to Nash's Phoenix Suns. Brandon Roy had missed half of the series after a late season knee injury. None of the Blazers' young wings had impressed in his absence. Both Roy and Greg Oden were expected back for the upcoming season and the feeling was if the Blazers could just stay healthy and get some depth this team could be special.

But would that depth come from an undrafted, 2nd year guard the Blazers had reportedly agreed to pay $35 million over the next 5 years? That was the question on July 21st as the Trail Blazers introduced their newest player – Wesley Matthews. The Portland media lifted up the 35 million pound elephant in the room and set it down on the table. To his credit, Matthews didn't shy away and tackled those questions head on.
READ THE REST OF THE ARTICLE