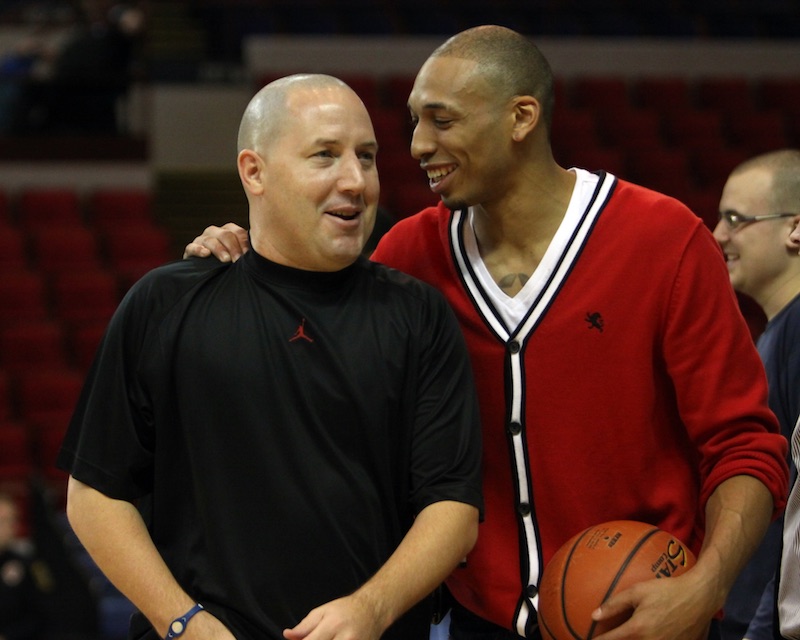 01 Nov

#MeetTheFamily: Joe Fulce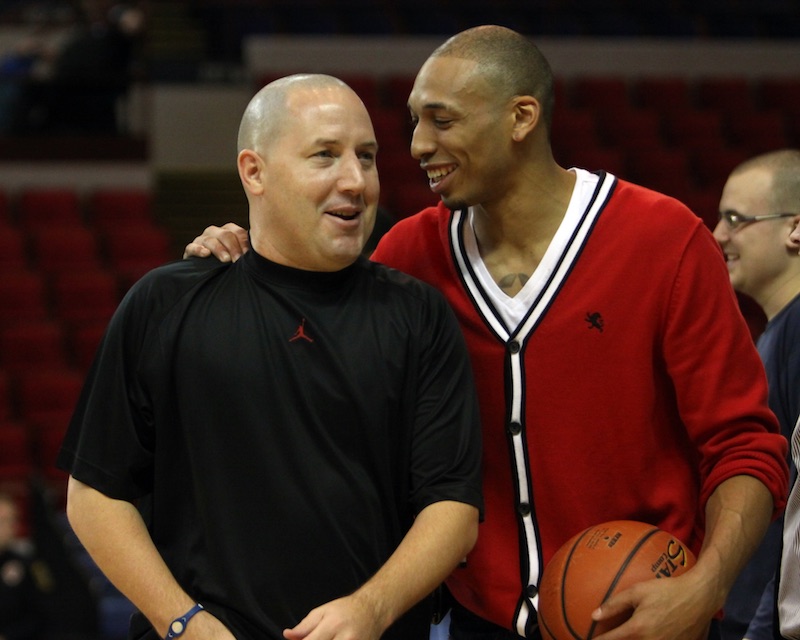 I originally met Coach Buzz through my high school coach, Tom Inman, they were really good friends growing up and Buzz had just made the transfer from Colorado State to Texas A&M to coach under Billy Gillespie. I wasn't really on the radar at the time but after attending a few camps I ended up getting an offer by the end of my sophomore year from Texas A&M.
I committed to Texas A&M with Buzz, but towards the end of my senior year I knew that I wasn't able to get my grades in some classes where I needed them, so I had to take a post grad year at Massanutten Military Academy in Woodstock, VA.
While at Massanutten I had a feeling that Coach Gillespie was going to be leaving A&M and Coach Buzz by that time had already left for his first year at UNO, so I de-committed from Texas A&M.
I signed with Buzz at UNO because he was the only coach at that time throughout the entire recruiting process that I trusted. I didn't want to go through the whole recruiting process again because I already had a great relationship with Buzz, and in my opinion he was not just a great coach, but a great person.
Within 8 weeks at UNO my roommate ended up being Jamie McNeilly, he was going into his senior year, and the one who actually picked me up from the airport originally was Devin Johnson, a manager at the time. By the beginning of that 8th week, I was in Dallas and it was post Katrina, so a lot of stuff was going on, looking back on it now, I believe that it was all in my best interest because I don't think anything would have worked out the way that it did if it wouldn't have gone that way.
Buzz called me one day before I was leaving my house to go to the airport and told me that he was leaving UNO and didn't know where he was going to end up, but he knew that because of our relationship he wanted to be straight up with me about it. So my family and I decided that it was best that I go back to Texas and Tyler Junior College. Going back to Texas and ended up meeting Jimmy Butler, who was just getting his life together and who was going through a lot of stuff with his family back in Tomball, TX at the time. When I first got to Tyler I didn't know how long I was going to be there and had just gotten over the recruiting process but Buzz kept telling me over and over, "stay positive I don't know what's going to happen, whatever it is you need to make the right decision, go where you feel like you need to go, you know I'm going to help you in anyway that I can as far as being a mentor, being a coach, and being your friend."
Sure enough, a few months later Buzz ended up going to Marquette University with Coach Crean, and by the middle of the fall of my first and only season at Tyler they both came out to watch a practice. Within about 15 minutes of watching practice they offered me to go to Marquette and I committed on the spot.
After committing I kept telling everybody, and by everybody I mean our coaching staff, Buzz, Scott Monarch and everyone that we had a diamond in the rough, named Jimmy Butler. As his roommate and close friend I wanted to make sure that Jimmy didn't get any bad information, talk to bad schools or bad coaches. I tried to help him know more about how the recruiting circuit and entire recruiting process really worked.
So fast forward to April 1st 2009, Coach Crean had just resigned, Buzz called me, and if you know him he has a really small circle of people that he trusts and that he talks to about certain things, whether it's family, whether it's work, so he says "I don't know what's going on right now, but I'm going to try and get the job."
We knew it was a long shot, but for whatever reason I had some type of serious faith that he would get it, solely because of the type of person he is, he's very upfront, he's just a great person in general.
Other than being a great coach, he's a family man and a great person first.
7 days later Coach Buzz got the job, but I remember him calling me after every interview stage to talk about how it went, and really what was going on as far as I could absorb at that age. Through this whole interview process Jimmy is literally across the room from me witnessing all of this while I'm on the phone, he's never seen any of this type of stuff before, so he just thought it was all crazy.
By that spring Jimmy had ACC schools looking at him, he had Kentucky looking at him, his radar started blowing up and he didn't trust a lot of people.
So Buzz called me the day he got the Marquette job and said "Joe are sure this is what you want to do, I've always asked you that, I asked you that at UNO, I asked you that at A&M, are you sure that this is what you want to do, are sure you want to come and play for me?"
Right then I told him, "Buzz I've never said no to you, I've always trusted you, but there's only one way I won't go," and he kind of paused on the phone and he was just like, "what do you mean? What's the deal?"
And I said, "You have to make sure Jimmy is taken care of and you have to sign him, you have to offer him to go there."
He said without hesitation, "hand Jimmy the phone," and I handed Jimmy the phone. Within 4 hours, we were at a McDonald's trying to fax over papers to make sure that all of his stuff was taken care of.
Because of how much I trusted Buzz and because of the things he had instilled in me at a young age, teaching me about both the business side as well as the coaching side of everything, it was just honesty and a level of trust that you don't hear about too often with recruiting and most coaches nowadays.
So looking back, we end up going to Marquette, three rings later Jimmy is in the league, I'm back in Dallas coaching and teaching, we both got our degrees and now fast forward to 2016, here I am at Virginia Tech working on Coach Buzz's staff.
A lot of people will think, "oh, you like to follow him," but at the end of the day how many people can you trust with your livelihood, not just basketball, but with your life, how many people can really help you learn to be a better person, better family member, better player and to teach you everything the way Buzz does.
Playing and working for Coach Buzz is not for everyone, but now here I am with Jamie, Devin, and Coach Buzz. It's kind of crazy how things work out, but at the end of the day things work out best when you're with family.