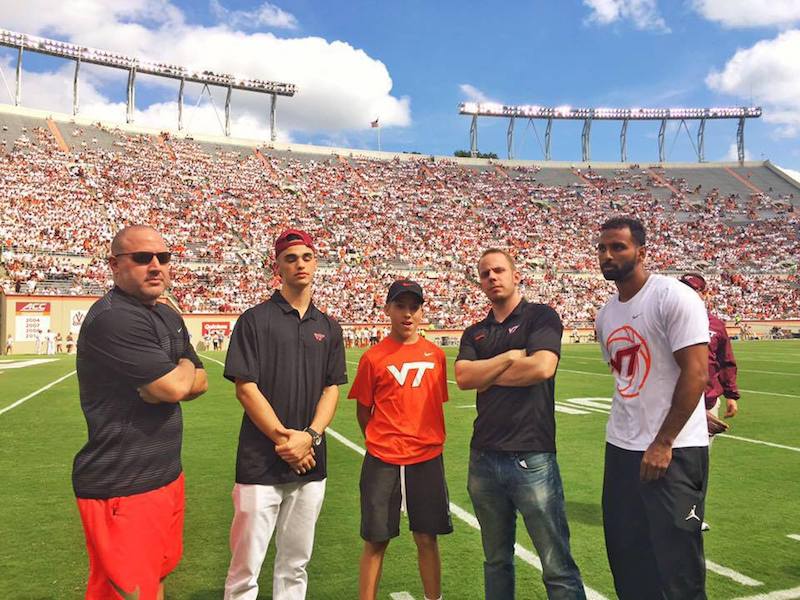 05 Dec

#MeetTheFamily: Josh Chambers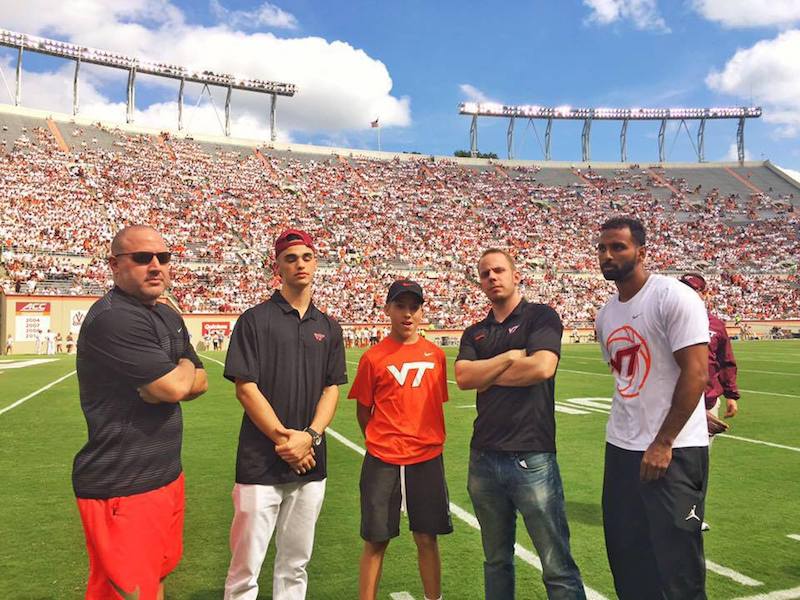 When Coach Buzz got here to Virginia Tech I was a rising senior and was going to be a guy on the manager staff. After the previous staff got fired and Buzz was hired I started researching him, and was super excited to get to work for him. Coach Buzz's culture was completely different than the old staff, not saying that the old staff was wrong, but the way Coach Williams does things is very unique because no one else in the country can really imitate it.
So after Coach Buzz got here and got going, I didn't really know how to fit in, I had already developed a niche with the other staff, but it was completely different with Coach Williams. I was struggling to find where I was going to create value. A few months in, Coach Williams came in the office into the manager room and asked if any of us knew how to use Photoshop.
Oddly enough, I was the only one who raised my hand, so it's kind of crazy, but the role fell right into my lap. I learned how to use Photoshop in high school in 9th grade when my dad was sick, he had ALS, so it was 24HR bedside care with my mom and I at his side. So as I was sitting at my dad's bedside just watching TV with him thinking, "Man, there's got to be a more productive way to use my time."
I'm really into sports, always kind of liked art, and on the forums guys are doing these things called signatures and wallpapers, so those things kind of intrigued me.
I decided to teach myself Photoshop to pass the time. I downloaded a copy and started using Photoshop 8 hours a day to try and get good at it, and in the beginning I was terrible. I kept using Photoshop through high school, but stopped doing it in college because my dad passed away. So obviously it wasn't a necessity to pass time anymore, and with school work and other things I didn't have the time to dedicate to it.
Until Coach Buzz walked in that one day and asked if anyone knew how to do it. It started out as small projects here and there, Buzz's Bunch projects, and then it kind of grew into where I was a machine doing it 10-12 hours a day. Coach started just feeding me project after project and I started to really progress after doing it that much. I was doing it literally all day every day, so I started to get half way decent at it. And in Buzz's eyes half way decent, was well that's amazing.
I know that I'm not the greatest out there, but I try to fill Coach's needs. So it grew into my own niche as a manager, which helped me kind of separate myself from the other managers. It put myself in a different area where Coach Buzz could rely on me for certain things. If I wasn't in the room that day, if social media didn't become what it is, I never would have been blessed to have Buzz entrust me with these projects.
And that led to me creating a relationship with George Raveling. Buzz didn't have a position available after my senior year so I left and took a position with Coach Raveling, which was by far the most impactful year of my life. I learned more, not just in the design aspect, but also in the life aspect, core values, decision-making, time management, pretty much anything beneficial to you as a person, as a worker, as a part of a family.
I was fortunate enough to spend 15 months with Coach Raveling, I became immensely better at graphic design, because I now had the time to run my own business on the side, designing for 8 different universities, 14 different programs, not just college basketball. Working with Coach Rav and my other clients I was was still getting the reps that I was getting with Coach Williams, refining my skills, really sharpening my craft. But I always said that the one job I would leave Coach Raveling for would be to work for Buzz in a full time capacity, because he kind of started it. When I write notes to Coach Williams, I end it with, "Thanks again, for changing my life," because before Coach Williams, I was working at McDonald's to pay my utility bill.
I was a manager with a dream, but who knows where I would be if Coach Buzz never took this job. I always say, "thank you for changing my life," because he really did change it, he led to me meeting Coach Raveling, which led to me starting my own business, which helped me form new connections, while at the same time perfecting my craft and improving my graphic design. All of these different skills that are going to be with me for the rest of my career, I owe to Coach Williams. I don't think you can put a price tag on that, I think that's love right there and it's not just me, Coach Williams has a connection with everyone on staff. Everyone has a story like that, and I would say that mine is not even close to as interesting or unbelievable as some of the other guys here on staff.
It just goes to show the family culture that Coach Williams has built here. Buzz inherited me, he didn't hire me, I was already a manager who couldn't find my niche, but he brings me along far enough for me to blossom and really develop into my own.
I think that more than anything in a family, it's kind of a no man left behind philosophy. Coach Williams talks about it all the time, if you play for him, work for him, you're a manager for him, your are in the family for life. Coach Buzz really lives that. Coach still writes to his former players, he still talks his former managers, and he'll help anyone he knows or he has worked with get a job.
Coach Williams 100% bought in to that culture of family and lives it everyday. It's not really something you can pretend, you can't fake it. If you're not putting the right stuff into your program and investing into what you're saying, then the players aren't going to buy in, the staff is not going to buy in, even the janitors are not going to buy in.
It's a testament to Coach Buzz when you look at Jamie, Devin, Lyle, Cara, and myself, we're all in here from 6AM to Midnight working our asses off. It's because we love him, we love what he's about, we know that he's not a fraud; he's changed our lives.
We're hoping to repay him in some way, even though it might not even be possible to do. The family culture we've all bought into, we're just trying to look after our brothers and sisters, and that's the mentality that we have, we're a family.